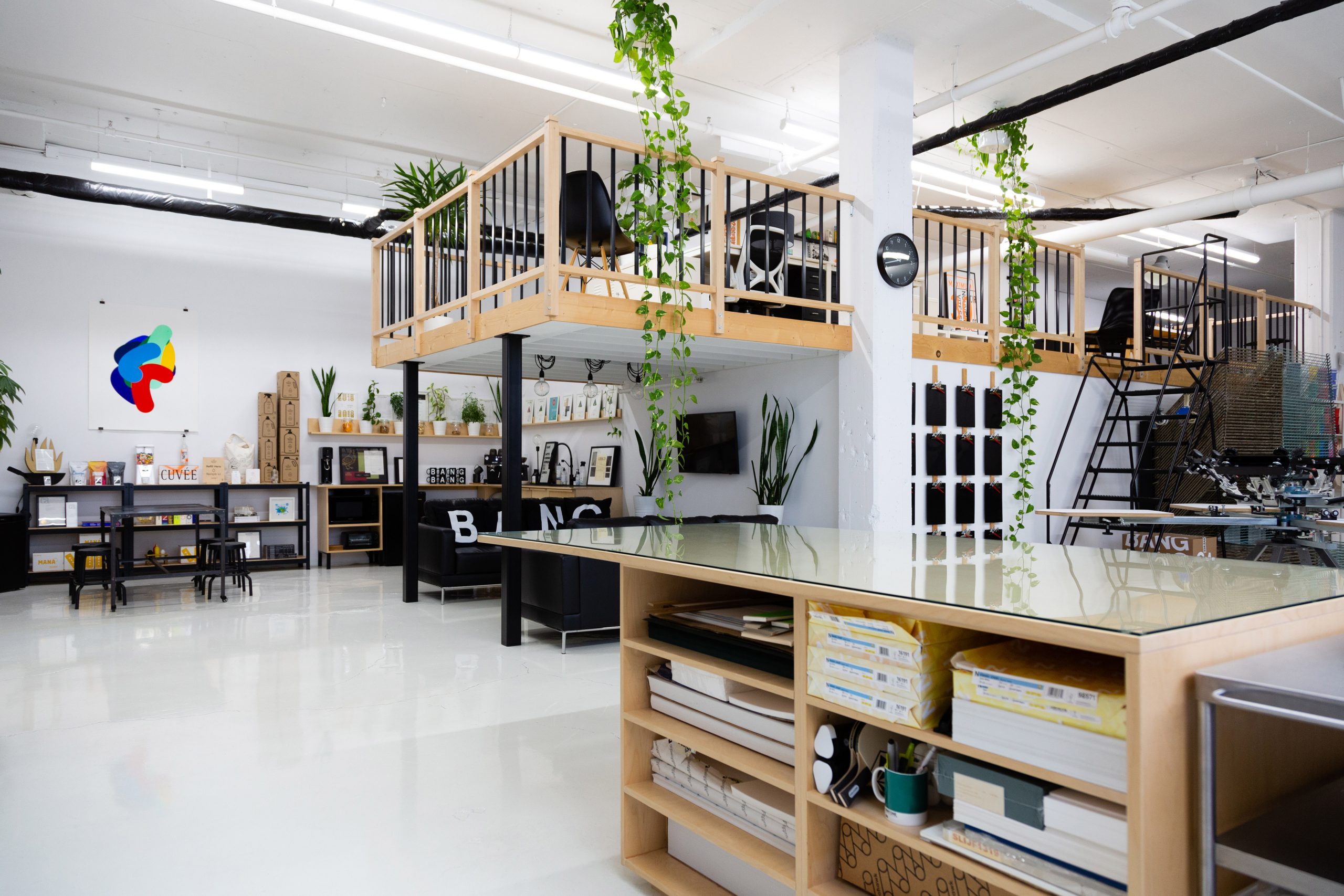 In 2012, designer Simon Laliberté had a crazy dream to unite graphic design and silkscreen printing in a commercial enterprise. Building on his years of experience in Montréal's big creative agencies, he made that dream a reality with the launch of BangBang, a studio that would unite his two favourite disciplines in service of one another.
Ever since, BangBang has hit the ground running, tackling design and screen printing projects of all sizes and scopes for a wide variety of clients. Specializing in visual identity, packaging and printed media, the studio upholds a personalized collaborative approach, adapting to each client's unique needs. Clients are kept close throughout the process, inspiring and immersing them in the studio's passionate workflow.
It proved to be a winning formula. Today, 10 years later, BangBang has become a leader in its domain, decorated with awards both local and international.
In 2016 the studio even launched an innovative event service, further cementing its position as the silkscreen specialists. Marrying traditional with modern techniques, the studio goes mobile, bringing discovery of this inspiring craft out of the office and directly to the public. Spot them at events throughout the Montréal region and beyond in their trademark 1980 Grumman step-van.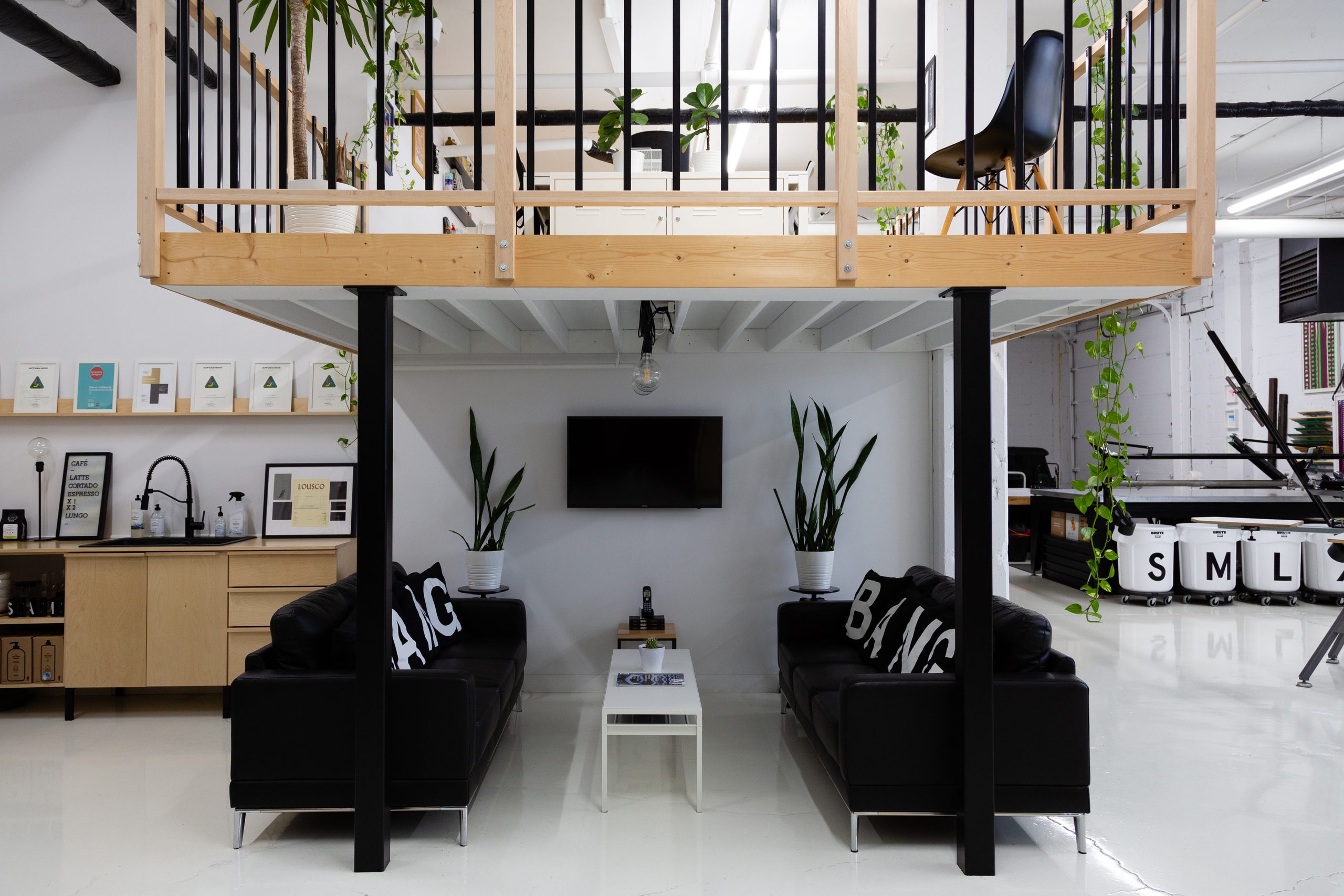 Small though it is – for the moment – our team ensures efficient management, creation, and delivery of projects at all scale and complexity. Our services are executed with an attention to detail and dedication to achieving the absolute best results for each and every commission.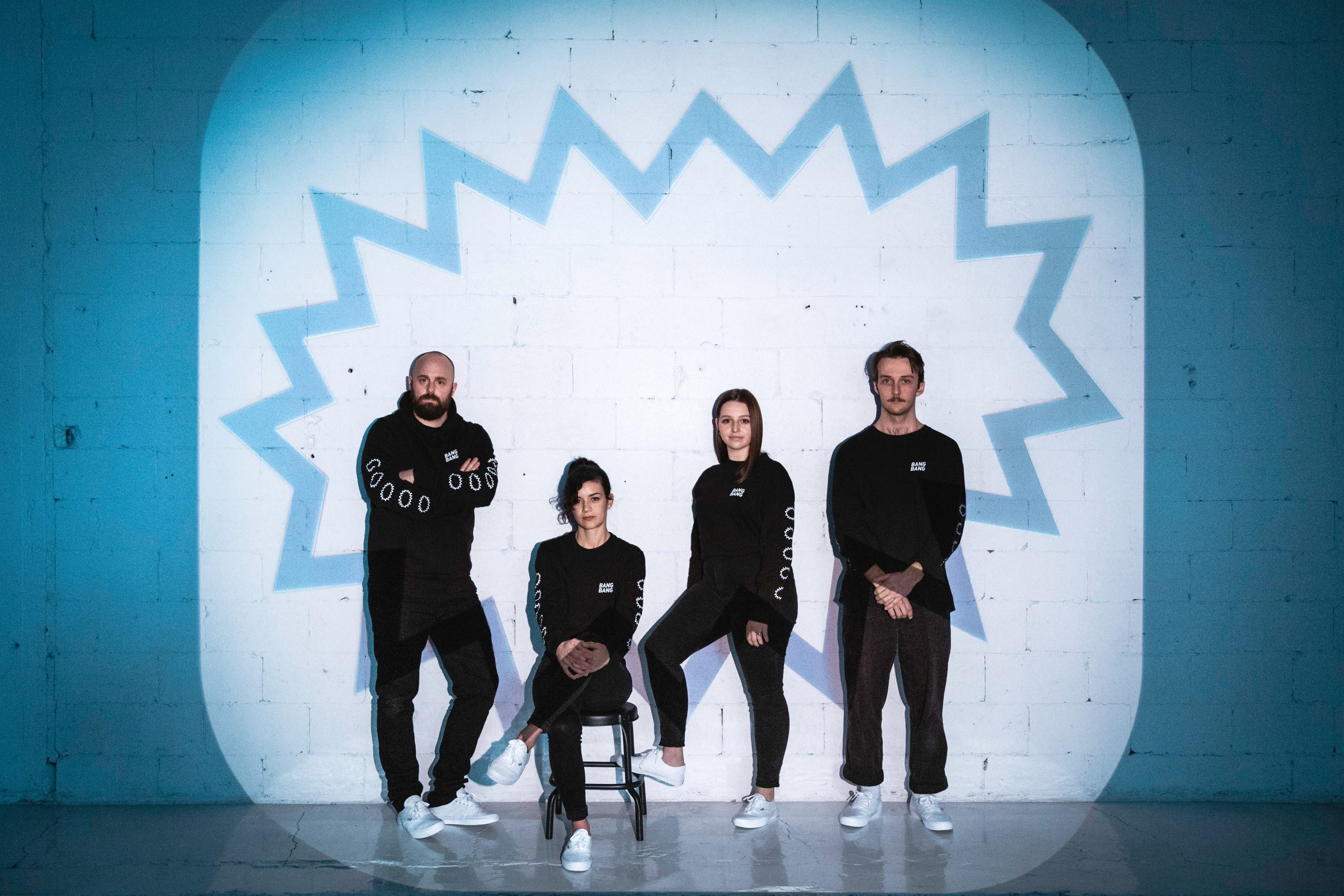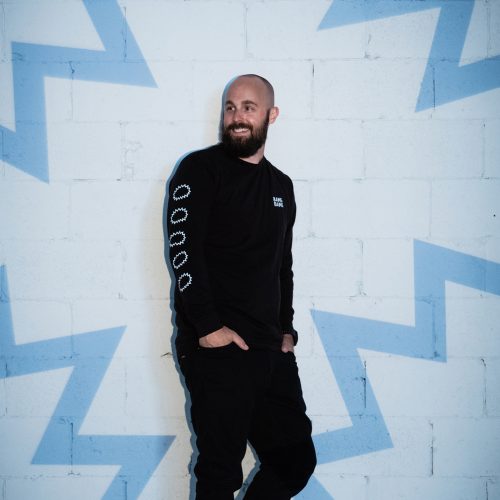 Entrepreneur at heart, Simon founded BangBang in 2012 following his studies in graphic design at UQAM. Having worked for and in collaboration with Montréal's most celebrated creative agencies, he acquired an expertise in the creation of visual identity, packaging and print design, as well as a deep network of collaborators.
Culminating today in more than 12 years of experience in the domains of design and screen printing, his methodical approach and creative flair are deployed to full effect on every commission. Simon's work has been published and awarded both in Québec and abroad. He earned a place on 2017's Infopress 30/30 leaders of tomorrow list, and was a finalist for RBC's Emerging Canadian Designer 2019 award.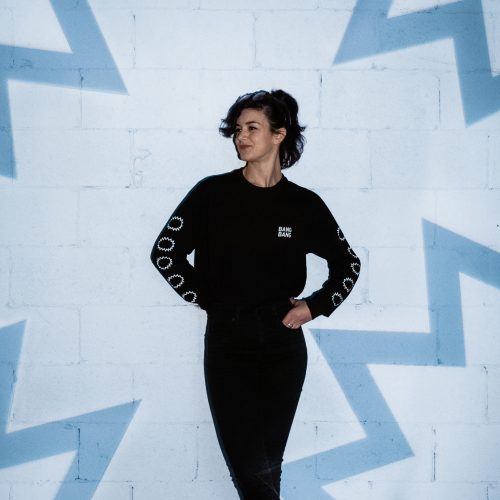 Marion's career path has covered a lot of ground, both metaphorical and physical. A desire for new horizons brought her to live in England, before she embarked on an education in cosmetology. Never did she imagine that she would develop an interest in the art of silkscreen printing. But years later while living in France, a chance encounter with the craft ignited her curiosity and opened a new chapter in her life. It was there that she began her training in manual screen printing. In 2018, compelled to develop her craft in a creative and professional environment, she packed her bags for the other side of the ocean and settled in Montréal.
Thanks to the opportunities she found at BangBang, Marion is now a screen-printing adept who can ink with the best of us. Marion's journey continues with our team, as our new Project Manager and Coordinator, for both print and creative.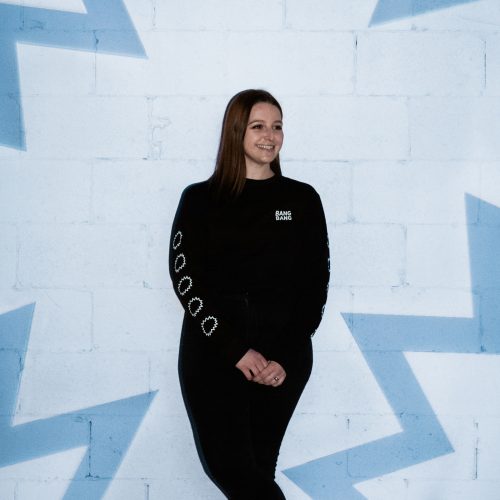 Corinne's passion for design and art comes from a long practice of painting and drawing. In 2021, she graduated with a bachelor's degree in graphic design from UQAM. Her beginnings as a freelancer in this field allowed her to explore different facets of the profession, as well as to develop her creativity and versatility.
Curious, she is interested in illustration which has always held a special place in her heart. She continues to explore the many spheres of the profession on a daily basis and wishes to incorporate the medium of screen printing into her future projects.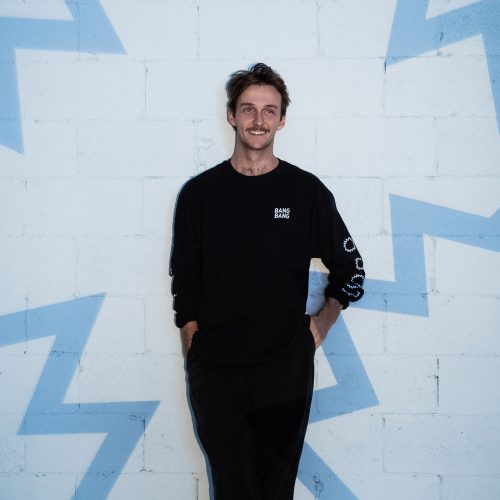 Graduate of the Cégep du Vieux Montréal's graphic design program, Antoine is a certified creative soul. He approaches design and its applications with both playfulness and consideration - a perfect addition to the team! As of Fall 2019, he is pursuing his bachelor's degree in Graphic Design at UQAM.
An enthusiast of manual techniques, he has developed a keen interest in silkscreen, which he practices daily in our studio. He seeks to advance the craft of print design in every project he embarks on.
Arielle has been passionate about photography since she was 8 years old. Before coming to study her passion in the big city of Montreal, she loved photographing the bucolic nature in her small native village. Graduating in 2014 from Dawson College in professional photography, she is now self-employed and specializes in portraiture. She is also an artist who creates authentic visuals that feel real and raw. Her malleability and her openness make it possible to mould herself to the passions of the people with whom she collaborates.
In 2021, her innate bilingualism and her love for the English language led her to add a new string to her bow: the study of English language education. As a hobby, Arielle rock climbs and hikes mountains, or by bike and her camera is never far away.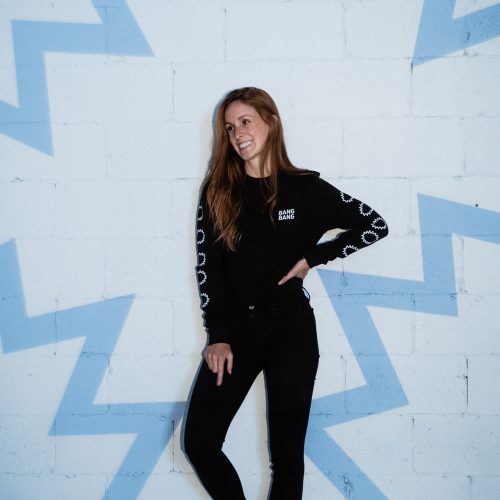 Look up atypical career path and there's a good chance you'll find Stéphanie's profile. With a multidisciplinary bachelor's degree (politics, communications, and agro-economics) and a graduate certificate in Environmental Management under her belt, her expertise is broad. For the better part of the last decade she worked with the Union des Producteurs Agricoles on the economic development of supply chains in the hemp, cannabis, maple syrup and fodder crop sectors. She also co-founded the humour blog Les Filles ne Rient Jamais in 2012, having previously worked in media at Urbania and Gros Blogue (Vidéotron).
Recognized for her strong leadership, her limitless creativity and her legendary dynamism, Stéphanie has united her talents in the role as Head of Business Development, where she puts her diverse skill set, knowledge and experience to work in growing our enterprise.
Since the studio's inception, we have collaborated with over 450 clients from diverse sectors both local and abroad, on projects of design and/or screen printing. Some of these clients return so often that they're starting to feel like family! Here's some examples: Some of these clients return so often that they're starting to feel like family! Here's some examples:
2022
APPLIED ARTS / DESIGN — BEANBEAN COFFEE — DESIGN FIRM PROMOTION — SERIES
APPLIED ARTS / DESIGN — BEANBEAN COFFEE — PROMOTIONAL PACKAGING — SERIES
APPLIED ARTS / DESIGN — BEANBEAN COFFEE — SUSTAINABLE PACKAGING— SERIES
COMMUNICATION ARTS / DESIGN — BEANBEAN COFFEE — SELF-PROMOTION — SERIES
COMMUNICATION ARTS / TYPOGRAPHY — BEANBEAN COFFEE — PACKAGING — SERIES
IDEA / BRONZE — BEANBEAN CAFÉ — AUTOPROMOTION
GRAND PRIX DU DESIGN / LAURÉAT PRIX DE L'ANNÉE — BEANBEAN CAFÉ — DESIGN D'EMBALLAGE
GRAND PRIX DU DESIGN / LAURÉAT PLATINE — BEANBEAN CAFÉ — DESIGN D'EMBALLAGE
PENTAWARDS / PLATINUM — BEANBEAN COFFEE — BRAND IDENTITY & CONNECTED PACKAGING
2021
APPLIED ARTS / DESIGN — TUC REFILL STATIONS — PACKAGING CONSUMER PRODUCTS — SERIES
APPLIED ARTS / DESIGN — CUVÉE 2020 — DESIGN FIRM PROMOTIONS — SERIES
APPLIED ARTS / DESIGN — CUVÉE 2020 — COVID-19 RESPONSE — SERIES
GRAND PRIX DU DESIGN / LAURÉAT PLATINE — TUC STATIONS DE REMPLISSAGE — ACTUALISATION D'EMBALLAGE
2020
A YEAR TO FORGET
2019
APPLIED ARTS / DESIGN — LOUSCO — SMALL BUSINESS DESIGN PROGRAM — CAMPAIGN
APPLIED ARTS / ILLUSTRATION — ZAB — COFFEE BAG PACKAGING ILLUSTRATION — SERIES
RBC CANADIAN EMERGING DESIGNER — FINALIST
2018
APPLIED ARTS / DESIGN — IDOINE — ENTIRE DESIGN PROGRAM — SERIES
GRAFIKA — HEXAREM — IDENTITÉ
2017
ADOBE LIVE — GRAPHIC DESIGN & SCREENPRINTING — WORKSHOP
APPLIED ARTS / DESIGN — ATELIER BANGBANG — REBRAND IDENTITY — SERIES
APPLIED ARTS / DESIGN — ATELIER BANGBANG — DESIGN FIRM PROMOTIONS — SERIES
APPLIED ARTS / DESIGN — HAUSSMANN PARK — IDENTITY — SERIES
2016
APPLIED ARTS / DESIGN — BOUFFE MAG — MAGAZINE COVER — SERIES
APPLIED ARTS / DESIGN — BOUFFE MAG — COMPLETE MAGAZINE DESIGN — SERIES
APPLIED ARTS / DESIGN — FISTON – COMPLETE BOOK DESIGN
APPLIED ARTS / DESIGN — BOUFFE MAG #2 — COVER PHOTOGRAPHY — SINGLE
APPLIED ARTS / DESIGN — BOUFFE MAG #1 — COVER — SERIES
COMMUNICATION ARTS / DESIGN — BOUFFE MAG #1 — EDITORIAL MAGAZINE COVER
GRAFIKA — FISTON — LIVRE COMPLET
LUX / GRAND PRIX — BOUFFE MAG #1
2015
GRAFIKA — LA REVANCHE DES MOCHES — LIVRE COMPLET
2014
GRAFIKA — DISSOLVE — EMBALLAGE
2013
BIC SPECIAL PRIZE — POILU — PACKAGING
GRAFIKA — ATELIER BANGBANG — IDENTITÉ
PENTAWARDS / GOLD — POILU — PACKAGING
PRIX GAÏA / MENTION — PÉPÈRMAN — EMBALLAGE
2012
REMARKABLE PACKAGING & ALTERNATIVE / 3e POSITION — DISSOLVE — PACKAGING
ASIA PACIFIC DESIGN No.18 — SANDU PUBLISHING
INT. DESIGN / GRANDS PRIX DU DESIGN — #86
PICA MAGAZINE— #13
ASIA PACIFIC DESIGN No.17 — SANDU PUBLISHING
INT. DESIGN / GRANDS PRIX DU DESIGN — #83
PICA MAGAZINE— #12
MODERN HERALDRY — VOLUME 2 — COUNTER PRINT CO.
PALETTE MINI SERIES No.2 — MULTICOLOUR — VICTIONARY
PALETTE MINI SERIES No.1 — BLACK & WHITE — VICTIONARY
LE DESIGN GRAPHIQUE, ÇA BOUGE! — ÉDITION SOMME TOUTE
ASIA PACIFIC DESIGN No.15 — SANDU PUBLISHING
ASIA PACIFIC DESIGN No.14 — SANDU PUBLISHING
DESIGN ANNUAL — APPLIED ARTS — SUMMER 2018
BRAND MAG No.37 — JUST MY TYPE — SENDPOINTS PUBLISHING CO.
FOOD PACKAGING DESIGN — DESIGN MEDIA PUBLISHING LIMITED
A FAIRY TALE ABOUT LOVE — WEDDING GRAPHIC DESIGN – ARTPOWER INT. PUBLISHING CO.
THE MODERN WEDDING — FROM GRAPHICS TO STYLING — SANDU PUBLISHING
GRAPHIC DESIGN ELEMENTS — OPTICAL ILLUSIONS — SANDU PUBLISHING
PICA MAGAZINE — #7
COLOR MATCHING — SANDU PUBLISHING
PAGE MAG — #325
MAKE ME SMILE — INDEX BOOK
THE PACKAGE 3 DESIGN BOOK — TASCHEN
BEYOND ILLUSTRATION — SENDPOINTS PUBLISHING CO.
IDN V21N2 — MINIMALIST ISSUE
MONOCHROME BLACK & WHITE IN BRANDING — SANDU PUBLISHING
100% FUN PACKAGING — PACKAGE DESIGNS FROM AROUND THE WORLD
L'EMPATHIE OU L'EXPÉRIENCE DE L'AUTRE — BIENNALE INT. DESIGN DE SAINT-ÉTIENNE
MAKEMAKE MAG — ISSUE 2
PALETTE No.02 MULTICOLOR — VICTIONARY
PALETTE No.01 BLACK & WHITE — VICTIONARY
GALLERY VOL.10 — CHOI'S
ASIA PACIFIQUE DESIGN No.8 — SANDU PUBLISHING